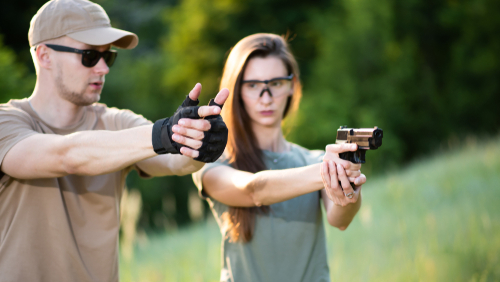 Whether you are a new gun owner or seeking to improve your shooting skills, receiving proper training from a reputable firearm instructor or facility is crucial. With the increasing popularity of firearms and shooting sports, it can be overwhelming to find a trustworthy instructor or facility that meets your needs. In this blog post, we will explore the key factors to consider when selecting a reputable firearm instructor or facility. Let's dive in!
1. Credentials and Experience:
One of the most important aspects to look for in a firearm instructor or facility is their credentials and experience. Ensure that the instructor is certified by reputable organizations such as the National Rifle Association (NRA). Additionally, inquire about the instructor's background and experience in teaching firearms – the more experienced the instructor, the more likely they can deliver high-quality training. Research their reputation within the firearms community to gauge their standing.
2. Safety Protocols and Facilities:
Safety should be the top priority when handling firearms. A reputable firearm instructor or facility will have strict safety protocols in place to minimize the risk of accidents. Evaluate the safety measures and procedures practiced by the instructor or facility. Are they diligent in enforcing proper range etiquette and gun handling rules? Are the facilities well-maintained and equipped with safety features like bulletproof glass, ventilation systems, and properly distanced shooting lanes? A commitment to safety reflects the professionalism and competence of the instructor or facility.
3. Course Offerings:
Consider the range of courses offered by the instructor or facility. A reputable instructor or facility should offer a variety of courses tailored to different skill levels, from beginner to advanced. Training programs should cover fundamental firearms handling, marksmanship, firearm maintenance, and situational awareness. Additionally, inquire about specialized courses such as concealed carry permit training, firearms law, or advanced tactical training. Ensure that the courses align with your specific objectives and needs.
4. Teaching Style and Communication:
Not all instructors have the same teaching style, and it's important to find one that suits your learning preferences. Research the instructor's teaching methods and see if they align with your own style of learning. Some instructors may be more hands-on and offer individual attention, while others may prefer a classroom-style approach. Additionally, good communication skills are essential for an effective instructor. They should be able to explain complex firearm concepts in a clear and concise manner, ensuring that you understand the information being presented.
5. Reviews and Testimonials:
Before committing to a firearm instructor or facility, take the time to read reviews and testimonials from previous students or customers. Online platforms and firearm community forums can be excellent resources for gathering feedback. Look for consistent positive feedback regarding their professionalism, teaching abilities, and overall experience. However, be cautious of a few negative reviews, as personal preferences and expectations can vary. Use your best judgment to filter through the information and make an informed decision.
Summary:
When it comes to firearm training, selecting a reputable instructor or facility is vital for personal safety and skill development. By considering their credentials, experience, safety protocols, course offerings, teaching style, and customer reviews, you can make an informed decision that aligns with your objectives. Remember, investing time and effort in finding a reputable instructor or facility will provide you with the necessary education and training to responsibly and confidently handle firearms. Stay safe and happy shooting!
Need a Gun Store in Paola, KS?
Harrison Street Pawn and Gun is your local full-service gun and pawn shop. We buy, sell, and trade many different items at our store! We have modern-day and pre-1899 guns, ammo, ammunition, gold, jewelry, guitars, musical equipment, power tools, lawn care equipment, and much more! We have expert gunsmithing and jewelry repair services as well. We have been your local professional pawn shop store for over 30 years! Call us today with questions or details!