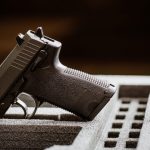 Gun ownership is a responsibility that requires careful consideration and planning. One important aspect to consider is how to safely store firearms when not in use. In this blog post, we will explore gun storage options, including cabinets, safes, and lockboxes, to help gun owners make an informed decision.
1. Gun Cabinets
Gun cabinets are a popular choice for storing firearms, as they provide a secure and organized storage solution. These cabinets are usually made of solid wood or metal and come in various sizes to accommodate different collections. They often feature glass fronts, allowing gun owners to proudly display their firearms while keeping them protected.
One advantage of gun cabinets is that they are easily accessible. When properly locked, they can prevent unauthorized access to firearms while still maintaining visibility. However, this can also be a drawback, as the glass panels may tempt burglars looking for an easy target.
To ensure the security of a gun cabinet, it is crucial to choose one with a sturdy lock mechanism. Look for cabinets with double-locking systems or those that can be bolted to the wall or floor for added security. Additionally, it's recommended to store ammunition separately from firearms, either in a locked drawer or an entirely different location.
2. Gun Safes
When it comes to ultimate security, gun safes are the top choice. These heavy-duty storage units are designed to withstand theft attempts, fires, and other potential hazards. Gun safes are usually made of thick steel and feature multiple locking points, which make them nearly impossible to break into.
One of the main advantages of a gun safe is its ability to offer protection against unauthorized access. These safes typically have a combination-dial lock, electronic lock, or biometric fingerprint scanner, ensuring that only authorized individuals can access the firearms inside. Some safes even come with advanced features like tamper alerts and emergency override keys, providing an additional layer of security.
Gun safes are available in a wide range of sizes, from compact options for a few handguns to massive vault-style safes for large collections. They also often come with adjustable shelves or door organizers to maximize storage space and allow for organized firearm placement.
3. Gun Lockboxes
For gun owners who require portability and quick access, gun lockboxes are an excellent choice. These compact storage units are made of durable materials like steel or heavy-duty plastic and can be easily transported in a vehicle or carried on a trip. Gun lockboxes are usually secured with a key, combination lock, or combination cable lock.
The primary advantage of gun lockboxes is their practicality. They are designed to provide quick access to firearms while ensuring their security. This feature makes them ideal for individuals who frequently carry or travel with firearms or for those who want to keep their home defense weapon readily available.
It's important to note that gun lockboxes may not provide the same level of protection as cabinets or safes, especially against theft attempts or fires. However, they are an excellent option for limited storage needs and may be used in combination with other storage solutions for enhanced security.
Conclusion
The choice of gun storage options depends on individual needs and preferences. Gun cabinets allow for a display of firearms while providing a level of security against unauthorized access. Gun safes, on the other hand, offer the highest level of protection against theft and other potential hazards. Lastly, gun lockboxes are a practical choice for portability and quick access. Whichever option is chosen, responsible gun owners must ensure that firearms are always safely stored and kept out of reach of children, unauthorized individuals, or those who may misuse them.
Got Questions? Let Us Help!
Harrison Street Pawn and Gun is your local full-service gun and pawn shop. We buy, sell, and trade many different items at our store! We have modern-day and pre-1899 guns, ammo, ammunition, gold, jewelry, guitars, musical equipment, power tools, lawn care equipment, and much more! We have expert gunsmithing and jewelry repair services as well. We have been your local professional pawn shop store for over 30 years! Call us today with questions or details!