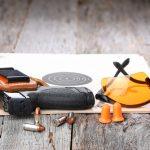 Owning a firearm comes with great responsibility. Whether you are a seasoned gun owner or considering purchasing a firearm for the first time, it is important to prioritize gun safety. Practicing safe handling and storage of firearms is crucial to prevent accidents and ensure the well-being of yourself and those around you. In this blog post, we will discuss some essential gun safety tips and best practices that all gun owners should be aware of.
1. Proper Handling and Grip:
When handling a firearm, always treat it as if it is loaded, even if you believe it to be unloaded. Keep your finger off the trigger until you are ready to shoot, and never point the gun at anything you do not intend to shoot. Practice a proper grip on the firearm, ensuring that your finger is straight and off the trigger until you are ready to fire. A secure and firm grip will help you maintain control and avoid accidental discharges.
2. Familiarize Yourself with the Firearm:
Each firearm is unique, so it is important to familiarize yourself with the specific model you own. Read the owner's manual thoroughly and understand how to safely load, unload, and operate the firearm. Familiarize yourself with the different mechanisms and components of the firearm, such as the safety features, magazine release, and slide release. Practice dry firing and operating the firearm without live ammunition to build familiarity and confidence.
3. Always Use Proper Ammunition:
Using the correct ammunition for your firearm is crucial for safety. Check the manufacturer's recommendations and markings on the firearm to ensure you are using the appropriate caliber and type of ammunition. Using improper ammunition can cause catastrophic malfunctions and pose serious risks. Additionally, inspect your ammunition before use for any signs of damage or corrosion.
4. Secure Storage:
Proper storage is essential to prevent unauthorized access to firearms, especially in households with children or individuals who may not be trained in gun safety. Store firearms in a locked safe, cabinet, or gun vault, ensuring that they are inaccessible to unauthorized individuals. Keep ammunition stored separately from the firearms in a locked container. Utilize trigger locks or cable locks to further prevent accidental discharge.
5. Education and Training:
Investing in proper education and training is crucial for gun owners. Take the time to participate in certified firearm safety courses and training programs. These courses will teach you essential skills such as safe handling, operation, and shooting techniques. Regular practice at a certified shooting range can improve your marksmanship and reinforce safe handling practices.
6. Eye and Ear Protection:
When shooting a firearm, it is important to protect your eyes and ears. Wear proper ear protection, such as earplugs or earmuffs, to reduce the risk of hearing damage from the loud noise. Additionally, wear safety glasses or goggles to protect your eyes from any debris or particles that may be ejected from the firearm.
Conclusion:
Gun safety should be a top priority for all gun owners. By following these tips and best practices, you can ensure the safe handling, storage, and operation of your firearm. Remember, responsible gun ownership is not only about protecting yourself but also about protecting those around you. Educate yourself and others, practice safe handling, store firearms securely, and always prioritize the well-being of yourself and others. With proper gun safety practices, you can enjoy firearm ownership while minimizing the risk of accidents or mishaps.
Got Questions? Let Us Help!
Harrison Street Pawn and Gun is your local full-service gun and pawn shop. We buy, sell, and trade many different items at our store! We have modern-day and pre-1899 guns, ammo, ammunition, gold, jewelry, guitars, musical equipment, power tools, lawn care equipment, and much more! We have expert gunsmithing and jewelry repair services as well. We have been your local professional pawn shop store for over 30 years! Call us today with questions or details!